WALKING TOURS OF OXFORD
and area, by
BILL LEONARD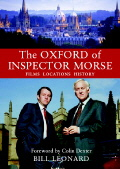 Also available from
the Oxford Tourist Information Centre,
Blackwell's Bookshop and other booksellers in Oxford.
INSPECTOR MORSE TOURS & BOOK
The Morse TV series, based on the award-winning novels of Colin Dexter, was first shown in 1987. It brought to the world an Oxford not seen before, not just the city of dreaming spires and partying students, wistful Dons and Dream Children, but a dangerous place of scheming criminals from both the Gown and the Town.
The first groups of visitors on the Morse trail came before the series had reached its third year. The growing demand initially took the guides by surprise, and many hours were spent analysing videos. Most of the Oxford locations were easily identifiable, but it took much longer to place those scenes shot away from Oxford.
In 1996, still four years before the end of the Morse series, the Tourist Information Centre started to offer public 'Inspector Morse' tours, and these have not lost their popularity, despite the end of the series in 2000. A group of guides formed to specialise in the tours, and gradually, with the assistance of people involved with the production, most of the locations have been identified.
The public tours leave the Information Centre at 1.30pm every Saturday, and it was the managers there that suggested that I write a book which would record the locations, not just for those who could come to Oxford, but for Morse fans worldwide.
"THE OXFORD OF INSPECTOR MORSE"

My book starts with a foreword by Colin Dexter, and then has four main parts.
Part 1. The episodes and their locations.
Part 2. Walks through Oxford with locations.
Part 3. The history of the locations
Part 4. Miscellaneous articles on associated subjects
There are over 100 colour photographs and 30 street plans and college maps. Other film and book locations are listed.
After publication, sales of the book reached No.2 in Blackwells Book Shop best seller list.
Nick Lockett, Head of Pictures/Carlton Television wrote:
"I have just received a copy of your wonderful book – it's terrific. We're sitting round in the office reading it, and learning and remembering. You should be very proud of such a great piece of work… it's a great read. Makes me want to rush down to Oxford and walk around the streets and colleges in your maps"
Click here to buy 'The Oxford of Inspector Morse' on-line.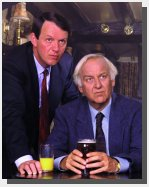 "It is a delightful and fascinating guide, and one which will
become a 'must' for those wishing to trace the steps of the enigmatic chief inspector…I shall treasure this guide."
Colin Dexter
Creator of Inspector Morse


E-mail:
Click here
Tel/fax:
+44 (0)1865 865707
Mobile:
07791 062574