WALKING TOURS OF OXFORD
and area, by
BILL LEONARD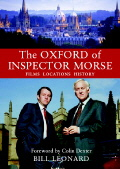 Also available from
the Oxford Tourist Information Centre,
Blackwell's Bookshop and other booksellers in Oxford.
BOOKING ENQUIRY FORM
If you are interested in taking a walking tour and would like further information or to check availability, then please complete the following form and click the 'Submit' button.
Your enquiry will receive our prompt attention.